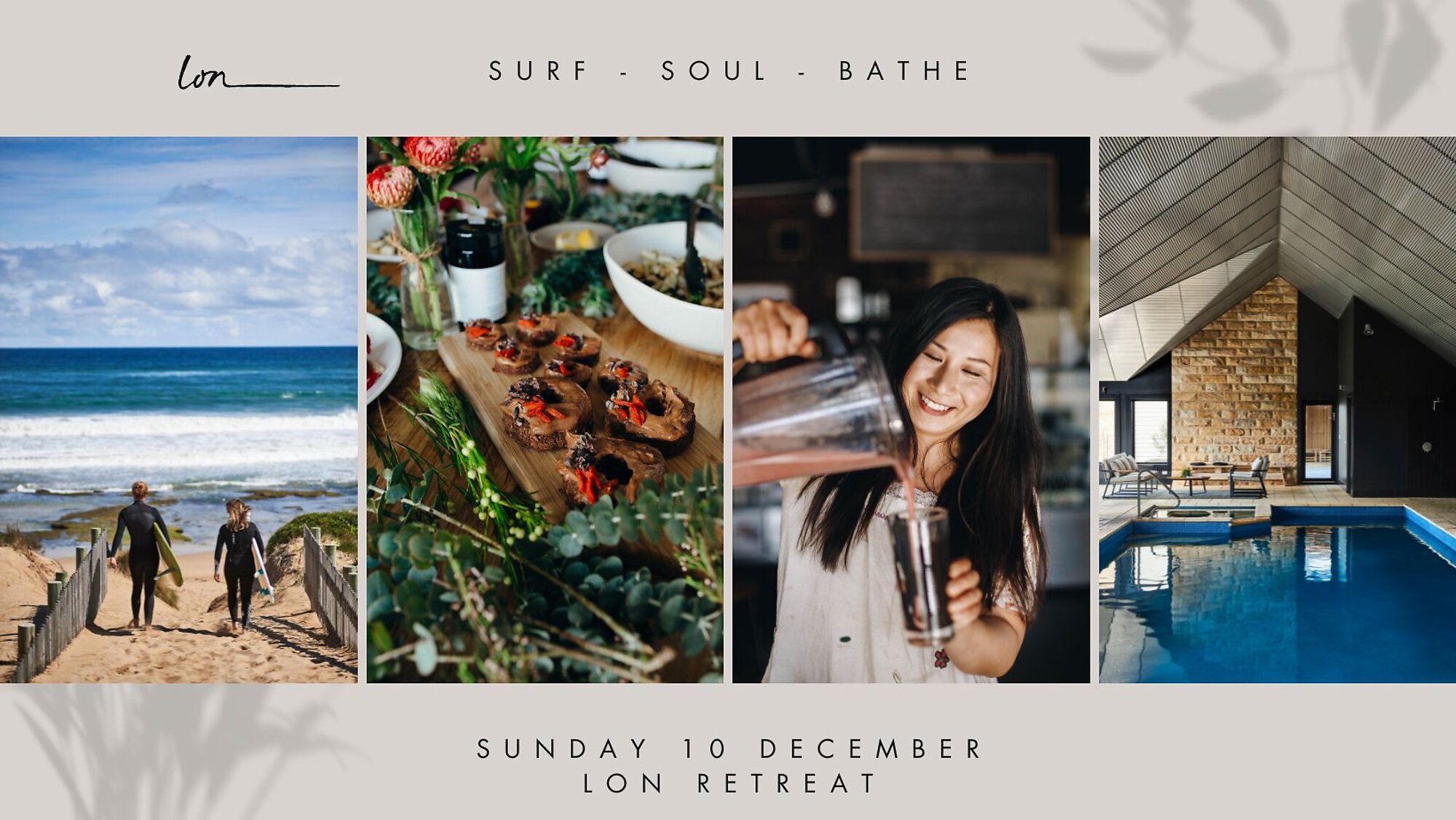 Sunday 10 December 2023. 9.30am - 3.30pm
SURF - SOUL - BATHE RETREAT
Join us for a full-day retreat at Lon Retreat & Spa with SURF, SOUL & BATHING.
Join Yoko Inoue, a master blender, macrobiotic and raw living food expert and enthusiast, chef and owner of Shoku Iku for a day of soul nourishment and aqua therapy.
Start your day retreat with a two-hour Learn to SURF lesson on Point Lonsdale's incredible beaches.
Then wander to Lon Retreat for a SOUL nourishing lunch prepared by Japanese chef Yoko Inoue. Yoko will introduce guests to the ancient art of Shoku Iku.
1. The Power of Organic Living Foods: Discover the incredible benefits of incorporating organic, living foods into your daily diet. These foods are packed with essential nutrients, enzymes, and life force energy that can invigorate your health.

2. Gentle Detoxification: Learn how to naturally cleanse your body from within using nourishing detoxifying foods. . We'll explore ingredients and herbs that support your body's natural detox processes, leaving you feeling revitalized.
Following lunch, guests will BATHE in Lon's heated mineral pool, water therapy sourced from mineral caves running beneath Lon's family farm. Robes, towels & lockers are provided. Guests will then have the option to wander Lon's farm walking tracks with a trail map, leading to beaches, lakes and moonah forest.
WHAT THE DAY WILL LOOK LIKE...
9.30am Arrival at Point Lonsdale's front beach for a surf lesson. Guests will be contacted to confirm surf location.
10am - 12noon Learn to Surf Lesson
12.15pm Arrival at Lon Retreat
12.30pm - 2.30pm. Japanese Chef Yoko Inoue will prepare a soul nourishing lunch whilst exploring ingredients & herbs.
2.30pm - 3.30pm Mineral Pool Bathing with herbal teas.
3.30pm Finish & Option to wander Lon's farm walking trails.
Sunday 10 December 2023
Lon Retreat & Spa, 25 Gill Road, Point Lonsdale
Cost: $345 per person
TO BOOK, CLICK ON THE 'FIND OUT MORE' BUTTON BELOW. BOOKINGS THROUGH HUMANTIX.
Ticket price includes - Surf lesson (all inclusive), herbals tea & water throughout day, mineral bathing access pass (including robe, towel & locker), Yoko Inoue chef prepared lunch & workshop, Access to Lon Retreat Farm Walks & Gardens.
Please advise of any dietary requirements or mobility access requirements when making your booking.